Regular price
Dhs. 115.00 AED
Regular price
Dhs. 230.00 AED
Sale price
Dhs. 115.00 AED
Unit price
per
Sale
Sold out
Share
View full details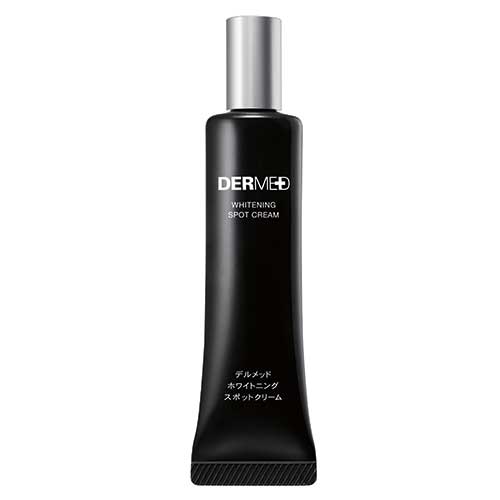 Skin brightening cream for dark spots Made in Japan
A dermatologist approved dark spot treatment
The moderately stiff DERMED whitening spot cream stays on the spotted area and delivers active ingredients. It effectively treats dark spots on mature skin.
+ Solar lentigo improvement
This DERMED whitening cream inhibits melanin production and cures age-related spots (solar lentigo) caused by exposure to UV rays.
+ Pigmentation improvement
This cream prevents post-inflammatory pigmentation caused by sunburn, rash, acne and insect bites, and brings back your original skin tone.
Peeling effect
This cream removes the accumulated melanin on the skin surface which is a cause of dark spots, and makes your skin tone lighter.
STEP.1
BALM CLEANSING
STEP.2
WASHING MILD
STEP.3
PREMIUM LOTION
STEP.4
PREMIUM ESSENCE
STEP.5
PREMIUM CREAM No.1
STEP.5
WHITENING SPOT CREAM
1. Use the included spatula to take the cleansing balm and put it on dry palms, then roll it with your fingers to dissolve it. When the balm melts and turns translucent, it is OK.
The approximate amount to be used per time is the size of one cherry.
2. Starting from the sticky T-zone, spread it out and gently blend it on the chin, cheeks, eyes and mouth. Don't forget about the area around your nose.
3. Once it melts away makeup around the eyes and mouth, spread it over your face gently and rinse with lukewarm water.
Pick Up Ingredients
"Exfoliating ingredient" Citrus Sphaerocarpa Fruit Juice Extract
It contains fruit acids that exfoliate dead skin cell and support skin care
"Beautiful skin support ingredient" Rosa Rugosa Fruit Extract
Promotes collagen production and maintains skin firmness.
+ How long does it take to see the effect of Whitening Spot Cream?
It takes about two months for the earliest. However, continue using it for about six months to one year for the best result. The effect varies depending on the cause of the spot, the rhythm of metabolism, and the time after the spot is formed. Meanwhile, always remember to keep your skin moisturized with a good daily skin care.
+ Could you tell me how to apply Whitening Spot Cream in detail? Should I use it in the morning too?
Take a small amount of Whitening Spot Cream on your fingertips and apply it gently on the spot. In order to settle it on the spots, apply it little by little, instead of applying a lot at one time. Continue applying Whitening Spot Cream twice a day (morning and night) since Kojic Acid takes mild action towards spots.
+ How can I use Whitening Spot Cream with my existing items?
Twice a day, in the morning and night, apply the cream after you sufficiently moisturize your skin with lotion or beauty essence. This is the most effective way to maximize the power of Whitening Spot Cream. If you want to use beauty oil along with the cream, make sure that the cream is fully absorbed before using the beauty oil. (For light type beauty oil, which usually requires no additional lotion or essence, apply the cream after the oil. Refer to its instruction for detail before using the beauty oil with the cream.)