Regular price
Dhs. 370.00 AED
Regular price
Sale price
Dhs. 370.00 AED
Unit price
per
Sale
Sold out
Share
View full details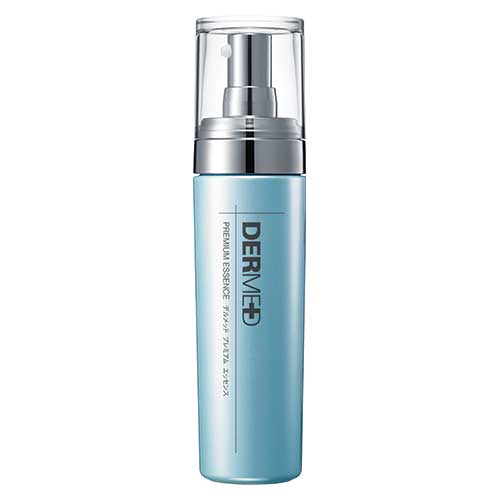 Skincare for smoother and brighter skin
DERMED Premium Essence
The essence delivers the ingredients deeper into your skin, brings out your true skin color and plumps up your skin from inside out.
+ Anti-wrinkle and firming action
The series inhibits the activities of enzymes which degrade collagen and hyaluronic acid, repairs damaged dermis and wrinkles, and helps you restore skin firmness.
+ Age spots and melasma improvement
The series inhibits melanin production at four points in melanocyte and also promotes melanin excretion.
+ Moisturization
The series replenishes amino acid and hyaluronic acid, maintains moisture balance of your skin at healthy level and prevents drying
STEP.1
BALM CLEANSING
STEP.2
WASHING MILD
STEP.3
PREMIUM LOTION
STEP.4
PREMIUM ESSENCE
STEP.5
PREMIUM CREAM No.1
STEP.6
WHITENING SPOT CREAM
1. Take one push on your palm and spread it over your face. Blend it in while patting lightly.
One push is the recommended amount for each use.
2. Once the essence is absorbed and skin becomes plump, wrap your face with your hands.
Point
Use your middle and ring fingers to gently spread the essence around your eyes and mouth.
Watch a video on how to care with it.
Pick Up Ingredients
"HSP-like activity and moisturizing ingredient" Paeonia Lactiflora Extract
It works on the "inflammation" caused by UV rays which causes photo-aging. (moisturizer)
"Compound ingredient" Pur Blanc W*
It effectively prevents the production of melanin, which is the source of dark spots. Pur Blanc W: Ascorbyl Glucoside (vitamin C derivative, skin lightening ingredient), Barley Culture Extract (moisturizer), Licorice Flavonoid (moisturizer), Phellinus Linteus Extract (moisturizer)
"Skin-beautifying ingredient" ST Myrobalan*
It helps to prevent the breakdown of collagen in your skin and gives you firmness. *Terminalia Bellerica Fruit Extract (moisturizer)
"Highly moisturizing ingredient" Deep Moist Collagen*
It has a three-dimensional structure that allows it to blend well with the skin and has high moisturizing power. *Deep Moist Collagen: Water-soluble collagen liquid 4 (moisturizer)
"Moisturizing ingredient" Hyaluronic Acid
It traps moisture in the skin and makes it glistening.
"Anti-inflammatory ingredient" Sargassum Horneri Extract
It helps to reduce inflammation and burning after sun exposure.
+ I use milky lotion along with my treatment to avoid dryness. Is it enough just with the lotion and essence?
DERMED Premium Series is a serious "anti-aging solution", developed based on the voices of our customers, saying that "I want beauty essence and milky lotion combined in one," or "I want to save my daily skin care time." Premium Essence promises smoother hydrated skin by gently approaching deep into the stratum corneum with its active ingredients.
+ Isn't it sticky on face?
Premium Essence has a milky light texture and stretches smoothly. Experience the smooth feeling and its moisturizing power simultaneously. Premium Essence not only saves your time but also makes your skin supple and plump.