Regular price
Dhs. 590.00 AED
Regular price
Sale price
Dhs. 590.00 AED
Unit price
per
Sale
Sold out
Share
View full details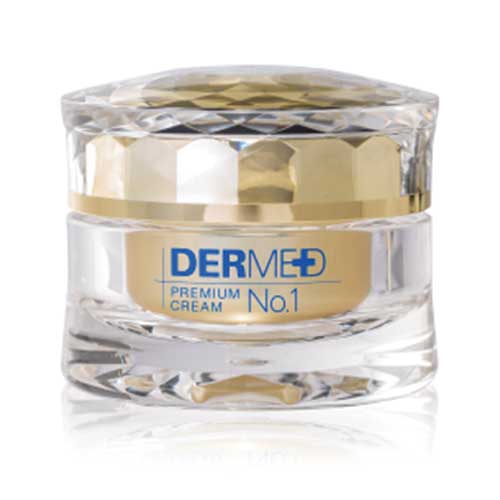 DESCRIPTION
The most prominent cream in the history of DERMED
DERMED Premium Cream No.1
Premium Cream ― luxurious yet effective No.1 care Containing the skin brightening and anti-glycation ingredient "Kojic Acid", and the anti-wrinkle ingredient "Serumvital*", it is the most prominent Kojic Acid brightening cream in the history of DERMED. It delivers the power of the ingredients directly and helps you achieve your most beautiful skin. * Serumvital: Rosemary Extract
+ Spots and melasma improvement
This cream inhibits melanin production from all angles and cures melasma which tends to appear during pregnancy, after childbirth, and at menopause, as well as solar lentigo caused by UV-rays.
+ Yellowish discoloration improvement
The cream inhibits production of AGEs, which are brownish yellowish substance formed by glycation of proteins. It prevents yellowish discoloration and brings back translucency to skin.
+ Wrinkle repair and sagging improvement
The cream repairs damaged collagen fiber and promotes collagen production; thus, it improves skin firmness. It even repairs wrinkles on the outer corners of the eyes and nasolabial region, improves sagging skin and lifts the entire face.
+ Moisturization
The cream maintains moisture balance and improves skin barrier function. It helps skin retain moisture, and keeps it clear and smooth.
STEP.1
BALM CLEANSING
STEP.2
WASHING MILD
STEP.3
PREMIUM LOTION
STEP.4
PREMIUM ESSENCE
STEP.5
PREMIUM CREAM No.1
STEP.6
WHITENING SPOT CREAM
1 Take an amount of cream equivalent to two pearl pieces and apply to both cheeks, forehead and chin, stretching gently from bottom to top and center to out, lifting the skin.
the recommended use is equivalent to two pearl pieces.
2 If you are concerned about dullness or fine lines, apply a thin layer of the cream around the eyes for even better results.
Point
For the wrinkles around the eyes and nasolabial area, gently spread out and blend in, so that the power of the ingredients can be spread to the affected areas.
Watch a video on how to care with it.
Pick Up Ingredients
"Skin lightening ingredient" Kojic Acid
It is effective in suppressing the production of melanin, the source of dark spot, and also prevents yellowish discoloration.
"Resilience, elasticity and beauty skin ingredient" Serumvital
It helps to maintain the elasticity and firmness of your skin. Serumvital: Rosemary Extract (moisturizer)
"Skin lightening support ingredient" Arnica Extract
It works to control the uptake of melanin on the surface of the skin.
"Skin lightening support ingredient" Stevia Extract
It helps to decompose AGEs.
"To support beautiful skin" Thyme Extract
It works to inhibit the activation of enzymes that break down collagen and elastin.
"Moisturizing ingredient" Hyaluronic Acid
It traps moisture in the skin and makes it glistening.
"Moisturizing ingredient" Ceramide
It enhances the moisturizing properties of the skin.
"Moisturizing ingredient" Ohhiratake Culture Solution
It improves moisture retention by regulating the disturbance of the moisture and lipid layers in the stratum corneum
+ I am using other cream. Can I use it together with Premium Cream No.1?
Premium Cream No.1 contains both Kojic Acid, which is well-known for its skin-lightening effect, and Serumvital, which is known for its effect for firmness of skin, and they are blended with other key ingredients to optimize the effects. To maximize such effects with your daily skin care, switching to Premium Cream No.1 is recommended.
+ If I use Premium Cream No.1, I don't have to use Whitening Spot Cream to care my spots. Am I correct?
Premium Cream No.1 is effective for a wide range of spots. However, if you want to treat partially dark sports, using Whitening Spot Cream which contains an exfoliating ingredient called "Salicylic Acid" is highly recommended. After using Premium Cream No.1, apply Whitening Spot Cream as necessary.
+ Is it enough to treat my skin with Premium Cream No.1 only?
To experience the best result, infuse skin with lotion and beauty essence before applying Premium Cream No.1. Skin must be well-moisten to let the cream go deeper.